What a fun new linky party!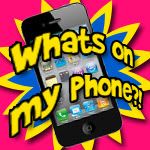 1. spend the week looking for interesting, funny, cute, special, lovely, ugly, silly, crude (okay maybe not crude), or worthy pictures. and by that i mean pretty much anything.
2. when you find them, snap a shot with your phone.
3. then on tuesday, upload it into your blog!
5. LINK UP on the linky party.
6. take the button if you play so everyone knows!
Ok but since it's the first one, I'm just going to show you what's already on my phone :)
Being goofy (Granny & Papa's)
now
though, so worth all of the work :)
Jazlyn modeling these dorky glasses at Walmart - did people really buy these to wear? hehe
So there won't usually be that many pictures, but I wanted to load most of the ones I keep permanently on my phone :)