What? Isn't that how it goes?
hehe
Alright, so really, this is about the Bowl Full of Lemons weekly challenge!
Each week, starting THIS Sunday, January 30th, there will be a new cleaning and organizing challenge posted, and you have the entire week to finish it!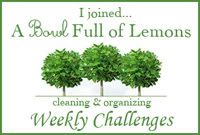 You can find out more information and sign up by clicking the image above :)
I can't wait to see what our first challenge is!